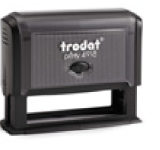 Click to enlarge image(s)
The 2015 California Certificate Disclaimer Stamp contains the wording that is required to appear at the top of all acknowledgment, jurat and subscribing witness certificates as of January 1, 2015.
The impression size is approximately 3 inches wide by 0.3 inches tall.
The following text appears in a rectangular box: A notary public or other officer completing this certificate verifies only the identity of the individual who signed the document to which this certificate is attached, and not the truthfulness, accuracy, or validity of that document.